Wedding Photography on the Beach
I'm so excited to finally share this amazing styled wedding shoot on the beach in Llangennith, Wales! It was THE most amazing magic created by Nicola Dixon from the Wild Ones Community and her crew of talented suppliers that took part to make it all come together so well.
I was so looking forward to capturing some wedding photography on the beach with Toni and Lewis Prothero- the gorgeous couple featured. It being early April last year, we were unsure what the weather was going to be like, but it ended up being the HOTTEST day of the year so far and I finished the day with a sunburnt head and absolute buzzing from all the amazing photos we managed to capture.
The style Nicola and the team were going for is boho beach wedding photography. The flowers by the incredibly talented Issy and Bella Floral Design are just insane! A combination of varying shades of pink and deep red create a really unique and vibrant look. They created Toni's beautiful boho flower crown as well as the unique circular backdrop piece and all the other floral prettiness you see here.
The wedding dresses and separates created by E&W Couture are just incredible. I love that their bridal dresses are unique and informal and comfortable! The detail and craftsmanship is so beautiful. What I would do to sport one of these!
The first outfit Toni worse is a 2 piece- top and skirt. The boho style crop top is made from guipure lace and has an open back with tassel ties. The pink dress is called 'Freya' and is a tulle gown with hand embellished gold appliques. It is perfect for a boho styled beach wedding. These dresses are made for the stylish and alternative bride and they have so many pretty pieces to choose from.
The styling was all put together by Couture Events in Hereford continuing the boho beach vibes. The table set up and decor was so beautiful.
Check out the beautiful wedding photography on the beach below…
It looks like another country right? How is this even in the UK?! Llangennith beach is absolutely gorgeous and I would recommend a visit there to everyone.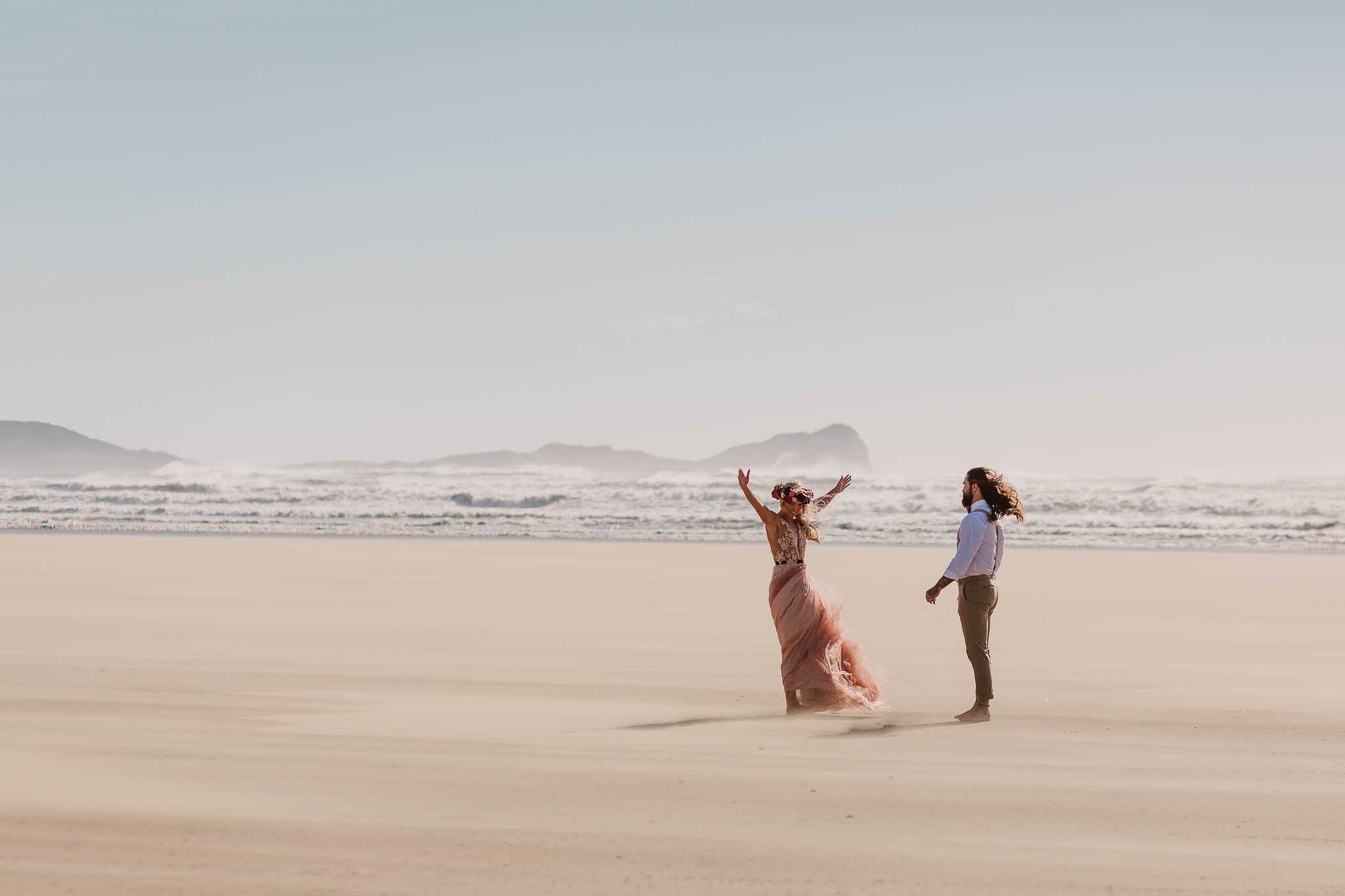 OK are you planning your beach wedding yet?! Because this whole set up is absolute goals right?! Drop me an email via my contact form if you're planning your beach wedding and would be interested to hear more about UK or destination wedding photography with me.
I cannot waaait for this year's destination weddings that I have booked in and hopefully we can create some more insane beach wedding photography in other countries too! #excited